This Digital Marketing Program provides a detailed understanding about Digital Marketing concepts, strategies, and implementation, including planning a website, website marketing, email and Search Engine Optimization (SEO) campaigns, Pay Per Click (PPC) campaigns and integrating digital marketing with traditional marketing.
The digital era has also given birth to a host of digital marketing/advertising agencies offering expertise ranging from niche services such as SEO specialists, and content creators; to generalists offering a gamut of services encompassing comprehensive social media and digital marketing campaigns including strategy, content creation, media buying, budget allocation and reporting. These external teams are more often than not overseen and managed by an internal team of the organization. Only a knowledgeable and up-to-date team will be able to effectively manage the external agencies and service providers, interpret the data analytics and metrics generated and improve ROI on marketing dollars spent. This Certificate in Digital Marketing Training Course will empower you to understand the current state of social & digital media in the region and your respective business fields, including best practices, industry standards, and future developments. Special focus will be given to ensure that the fundamental concepts and basics are covered in detail to ensure that all participants are up to speed including the professionals with little prior knowledge of the topic. Additionally, the course will help you understand the role of outsourced digital marketing agencies; and how to manage and review agency partners better.
The primary objective of this Digital Marketing Training Course is to empower the working professional with
Fundamentals of digital marketing and its business implications
Fundamentals of social media marketing and its implications to marketing activities
An overview of social media & other digital media in the region
An understanding of the industry standards, best practices, and latest developments
Develop an effective Digital Strategy
Understand the role of Digital Marketing in integrated marketing communications
Target and grow the right audience for your brand
Optimize a multi-channel marketing campaign using web Analytics
Create engaging and high-impact marketing content
Search Engine Optimization and Pay-Per-Click Advertising
Develop Email Marketing Strategies that convert
Understand Growth Hacking
Data Analytics
Roll-Out and Take to Market Strategy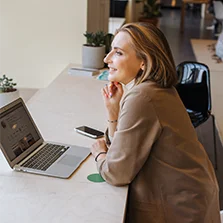 All Darlington Media Agency courses are delivered tailored to the needs of the organization and the audience. This course training includes interactive training, group activities where the group will prepare and present on a subject, audio/video presentations, individual and group experiential learning activities based on adult learning methodologies.
SEO (Search Engine Optimization)
Marketing is key to the existence of any business and when it comes to Internet marketing, companies must ensure that they are always at the top of search engine rankings which ultimately leads to conversion and promotes the company's reputation as a trustworthy source of information and of products. With technologies such as apps and social search, it is important to know all the options that can be used to harness conversion. You will learn about on page optimization, off page optimization, design and architecture, SEO algorithms and other techniques to optimize content for search engines that will generate search traffic.
Google Analytics for Beginners shows new users how to create an account, implement tracking code, and set up data filters. You'll learn how to navigate the Google Analytics interface and reports, and set up dashboards and shortcuts. The course will also demonstrate how to analyze basic Audience, Acquisition, and Behavior reports, and set up goals and campaign tracking.
Create your own Marketing Plan for your own product or service idea. In this course you will learn how to produce arguably the most important marketing tool for any business. Rather than simply learning the stages of The Marketing Plan, you will be asked each week to complete a peer graded assignment which will help you complete a simplified version of the plan. You will be required either to map the four crucial stages for your own product or service idea in order to produce a professional example.
An online advertisement can promote a business and reach a wide audience effectively while spending far less than with traditional advertising approaches. This course will introduce you to the process of social advertising and its objectives. You will learn about the different rules to follow for a successful social advertising campaign as well as take a look at the different social advertising platforms and the types of advertising they offer.
Content Marketing Management
Content marketing is a long-term strategy that includes developing original, relevant content for your users and customers. It encompasses all marketing formats that involve creation and sharing of content in order to acquire and engage your customers. Content marketing is much more than just writing. This content marketing training course will teach you how to build your business by leveraging the content you already have, create new content for marketing, and update your search engine optimization so people can find your great content, resulting in increased leads, more sales and better relationships with your customers.
Blogs Creation and Management
Although blogging has now been around for almost 20 years, it has only been in the past 10 that bloggers have started to make enough money from them to support themselves. The idea of making money writing content about topics you are passionate about is an attractive one, but there are many technicalities and nuances behind the process of starting a blog and earning profits from it that need to be understood, to be successful.
The Google Ads certification is a professional accreditation that Google offers to individuals who demonstrate proficiency in basic and advanced aspects of Google Ads. A Google Ads certification allows individuals to demonstrate that Google recognizes them as an expert in online advertising. You can earn the certification through skillshop, Google's online training program.
Mobile Marketing is a vital marketing strategy, representing the future of marketing. Mobile Marketing is marketing on or with a mobile device, providing customers with time- and location-sensitive, personalized information that promotes goods, services, and ideas.
Choose The Best Package For
Your Digital
Marketing
Benefit for learning with us
We will put you through all-around Digital Marketing skills. 
Key Takeaway
Effective Communication
Social Media Growth
Search Engine Management
Web Building and Planning
Customers Growth
Marketing Planning
Ad Management
Copywriting